Last minute Halloween costumes ideas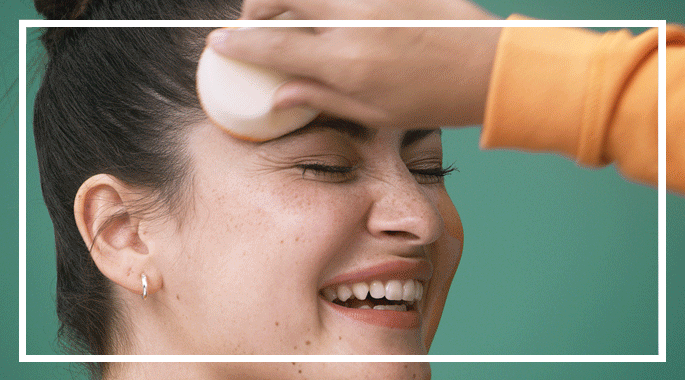 Face painting sorted, now let's get your spook on! It's time to sort your Halloween costume for you and the family. Need some easy ideas to whip up some boo-tiful looks? You don't have to spend a fortune on fancy dress that'll end up thrown in your attic. Most of these outfits – all available to buy at Victoria Leeds – are based around items you can wear all year around. Pretty cool, right?
Morticia Addams Costume
First, crank up the theme tune to get in the spooky vibe (clap clap), then arm yourself with a Morticia Addams-style black dress. & Other Stories do a great one that is darker than Frankenstein's soul (plus it's perfect for nights out when you're not trick or treating, too). Slick on a fiery red pout like the Charlotte Tilbury K.I.S.S.I.N.G lipstick in Love Bite from John Lewis & Partners, and finish with a Morticia-style long black wig and black smoky eyes. How about going as a daring duo with Gomez Addams? All you'll need is a pinstripe suit, gelled black air and a pencil-thin moustache.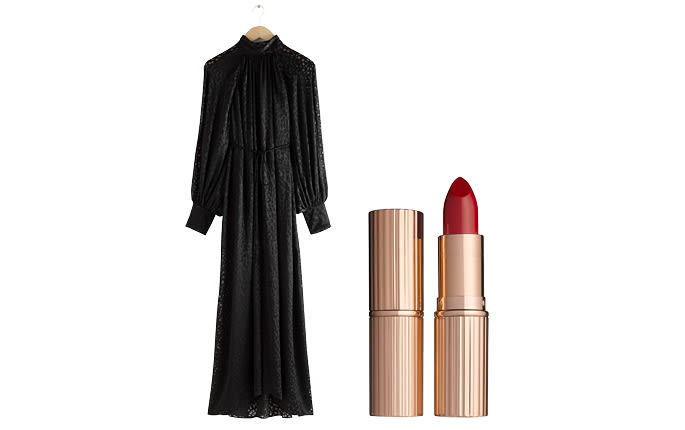 Our picks: silk blend maxi leopard dress, £135, & Other Stories; Charlotte Tilbury K.I.S.S.I.N.G Lipstick in Love Bite, £25, John Lewis & Partners
Eleven from Stranger Things costume
Still obsessed with Netflix's hit-show Stranger Things? Same here. For Eleven's season one killer outfit, get hold of this light pink dress from & Other Stories (which you can repurpose for warmer days), and pair it with some sporty tube socks. This is a great twinning outfit, so we've found the ultimate kid's Eleven outfit at Victoria Leeds too. Double trouble guaranteed. To fully embrace the Upside Down, add some white trainers, blue bomber jacket and blonde bobbed wig. (Top marks for the extra trickle of fake-blood under the nose.) And for anyone out there aspiring to be a Sheriff, Chief Hopper might be the coolest look going. Think full-on beige suit and a cowboy hat.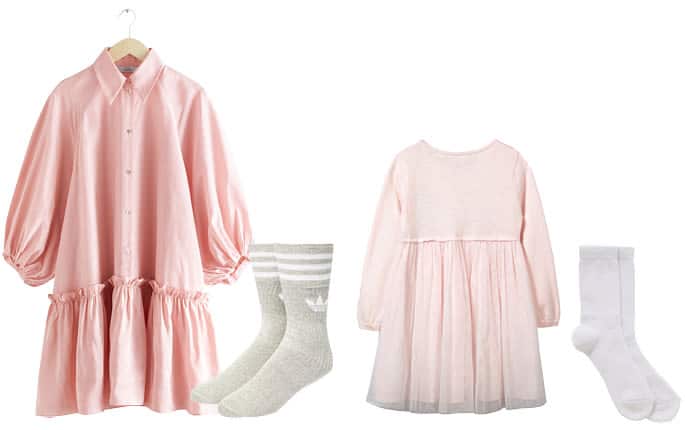 Our picks: puff sleeve ruffled mini dress, £95, & Other Stories; Adidas Originals crew socks, £13 for three pairs, size? For your mini-me: knit & tulle dress, £44, The White Company; pack of 2 children's sports socks, £4.50-£5.50, John Lewis & Partners
Classic skeleton Halloween costume
We would make a skeleton joke, but we wouldn't find it very humerus. For any busy mums and dads looking for the comfiest and most versatile Halloween costume for kids, this skeleton hooded top and joggers will turn heads. Chilling and original enough to go trick or treating with the squad, it's also the perfect lounging outfit for around the house. Just add some white sneakers or some funky skeleton slippers.
Our pick: boys' skeleton onesie, £22-£28, John Lewis & Partners
Baby Minion Halloween costume
What's yellow, wears dungarees and obsessed with bananas? A Minion from Despicable Me, of course. All you need for this easy Halloween costume is a long-sleeved yellow top like this one from John Lewis & Partners and a pair of denim dungarees. Finish with a yellow beanie hat and swimming goggles and voilà, the most Instagrammable Minion out there. And if you fancy doubling-up on this one, think Gru! Pull on black trousers, a grey top and pair with a stripy grey and black scarf. Add thick drawn-on eyebrows and you're ready to go and scare!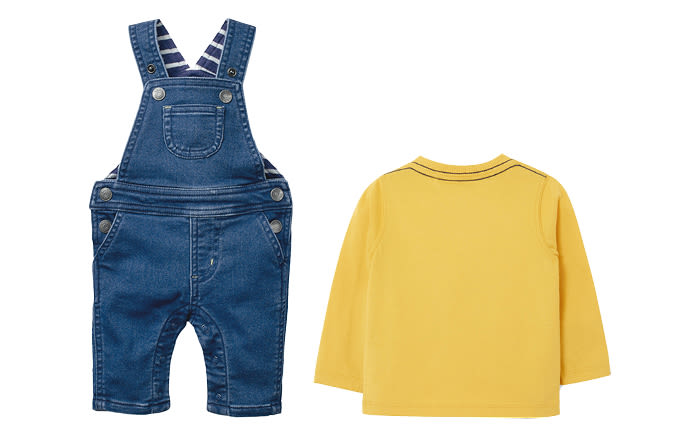 Our picks: baby long sleeve top, £11- £12 for three, John Lewis & Partners; Mini Boden baby denim dungarees, £28-£30, John Lewis & Partners