Parking
(in award-winning style)
The Victoria Leeds car park is in the heart of Leeds city centre located next to the wonderful Victoria Gate shopping centre. Home to many luxurious brands including John Lewis, Rolex by Prestons and the White Company. For the more historic side of Victoria Leeds, head to Victoria Quarter home to many luxury fashion brands including Louis Vuitton and Vivienne Westwood, beauty boutiques such as Penhaligons, restaurants and bars such as the Ivy and Ivy Asia which are easily accessible with our parking in Leeds city centre.

At our car park in Leeds city centre, we offer 805 car parking spaces which are open 24 hours, 7 days a week, making it the perfect spot to leave your car as you enjoy our fantastic city. At our car park, we also offer safe and secure overnight parking, which covers the hours of 5 PM to 6 AM, for just £5.
Sign me up to Park like a VIP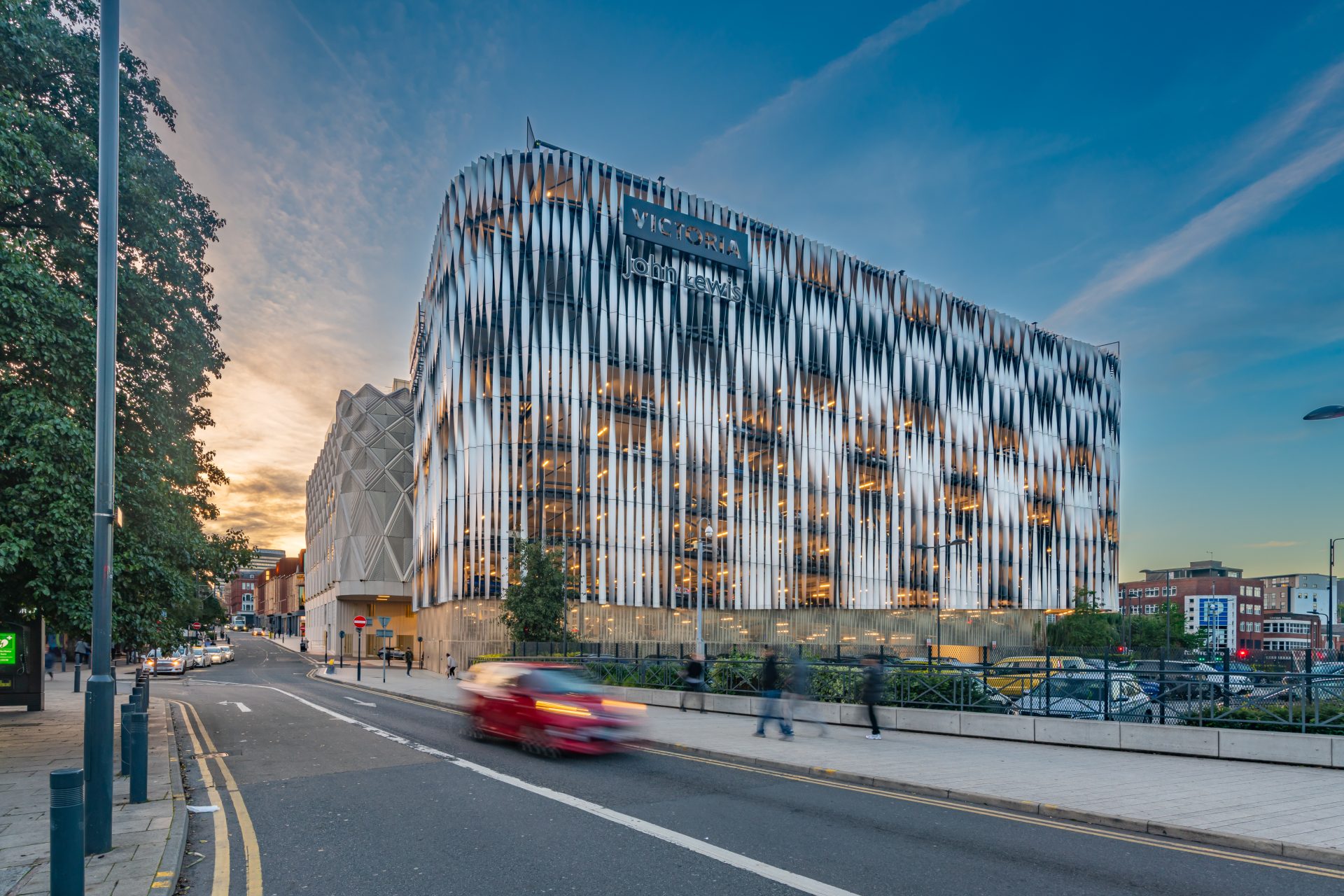 Open Today

Open 24hrs

Parking Tariff

Charges Apply

Location

LS2 7AS
Car Parking Spaces: 805

Disabled Spaces: 50

Family Spaces: 18

Electric Vehicle Charging Facilities: 16

Car washing facilities

Mobile Pay
Victoria leeds multi-storey car park
Opening Hours
monday

Open 24hrs

tuesday

Open 24hrs

wednesday

Open 24hrs

thursday

Open 24hrs

friday

Open 24hrs

saturday

Open 24hrs

sunday

Open 24hrs
Tariff Prices
Day rate, charged by hour (6am - 5pm) *
Up to 1 hour

£3.50

Up to 2 hours

£5.50

Up to 3 hours

£7.50

Up to 4 hours

£9.50

Up to 5 hours

£12.50

Up to 6 hours

£16.50

Up to 7 hours

£20

Up to 8 hours

£25

UP TO 24 HOURS*

£30
Night rate (5pm - 6am) ***
Credit and debit cards accepted. Lost tickets can be investigated by the Management Team.
Mobile Pay and pre-payment accepted through our VIP parking offer.
*If you enter the car park at 2pm and stay until 10pm (8 hours), you will be charged for 3 hours (£7.50) plus the night rate, which is a fixed rate between 5pm and 6am.
**You may park for more than 24hrs and the tariff will repeat each 24hr period.
***If you arrive at 5pm or later and leave within 1 hour, you will be charged the fixed night rate of £5.
Useful information
Open 24 hours, 7 days a week.
You can enter John Lewis & Partners Leeds from Level 1 & 6 (please check with the store directly that all entrances are open) of our car park or via Victoria Gate. Harvey Nichols Leeds has multiple entrances in Victoria Quarter or via their Briggate entrance. All stores are just a short walk from our car park in Leeds.
Winner of the 2018 British Parking Awards 'Best New Car Park' in the UK as well as achieving the coveted Park Mark® Safer Parking Award.
Vehicle entrances for our Leeds city centre car park are from the Eastgate roundabout. Please note we have a height restriction of 2.1m. Pedestrian access is via George Street or Eastgate entrance when the centre is closed.
We have free motorcycle parking in designated bays on level 0.
Electric vehicle charging is available as you head up to level 1 in our multi-storey car park. Pod Point is now charging 57p per kWh.
Why introduce a tariff? This will help enable further expansion of our network in the future. So far, we've provided 99,674 kWh of free charging over 3 years. That's equivalent to 348,859 electric miles and 55.82 tonnes of CO2 saved.
FAQs
What Can I Do In Victoria Leeds?

Once you have parked at our car park in Leeds city centre, you can shop until you drop in Victoria Leeds. We are the home to many luxury and designer shops such as Paul Smith, Ralph Lauren, Rolex by Prestons, Louis Vuitton and Vivienne Westwood. 

It isn't just the fantastic luxury fashion shops that we are home to. We also have plenty of places to enjoy a break from shopping and some great dining spots. We have The Ivy Asia, The Cut & Craft, and Issho. If you want a more casual meal but still want to enjoy that exquisite taste, Benugo is also available for you to enjoy some fantastic food before continuing your shopping trip. We also have plenty of cafes for you to enjoy such as Amorino, Pret and Weetons – perfect for cake and a coffee to perk up your day and all just minutes away from our parking in Leeds. 

Once you have finished your food, you can either enjoy more shopping or visit our Victoria Gate Casino – a casino like no other – with almost everything you can think of to keep you entertained, with 22 live betting tables and over 175 slots and electronic roulette games, as well as live entertainment over the weekends. 

If the casino isn't for you, why not try something new? Head to Boom Battle Bar and explore the 'battle ground'. Enjoy interactive darts, axe throwing, beer pong, shuffleboard and, crazy golf. 
What To Do Around Our Car Park In Leeds

Once you have arrived in Leeds city centre car park, head through the double doors on level one and explore Leeds' largest department store, John Lewis. Once you have shopped until you drop in there, head through to Victoria Gate then on to Victoria Quarter to discover what Victoria Leeds has to offer. 

If you fancy exploring more of the city, you have the Grand Theatre, less than a 10 minute walk away from our parking in Leeds city centre. This spectacular theatre opened in 1978 and was originally split into three parts – the theatre, six shops and assembly rooms. This grade II listed building was then modified in 1907, turning the assembly rooms into a cinema. The cinema closed in 1985, changing to rehearsal rooms. 30 years later, this fantastic theatre was then restored to what it is today. 

You also have the City Varieties Music Hall, which was built back in 1865 and has been a massive part of the city ever since its opening. It's one of few Victorian-styled music halls in the country and was the stage for The Good Old Days, a BBC television programme. It holds 467 and is one of the most visited theatres in the North East. This is a theatre that everyone has to experience when visiting Leeds. Plus, it is only a 7-minute walk away from our parking in Leeds City Centre!
Why Choose Our Parking In Leeds Compared To Others

Our Car Park in Leeds City Centre is one of the cheapest car parks in the city. Plus, we offer 24-hour parking in Leeds so that, if you are staying overnight or want to enjoy a night seeing what Leeds has to offer in terms of nightlife, you can do so without worrying about your vehicle. 

Our car park offers 50 disabled parking spots, plus 18 spots for families, with a total of 805 parking spots right in the middle of Leeds city centre, making it easily accessible and convenient for all. As we are always looking to reduce our carbon footprint, we also offer 16 electric charging bays on level 1 of the car park in Leeds city centre. These bays cost a total of 57p per kWh, so you don't need to worry about breaking the bank as you shop around Victoria Leeds. If you want more information about what our car park in Leeds City Centre offers, contact us on 0113 245 5333 or, send us an email with any queries you may have.