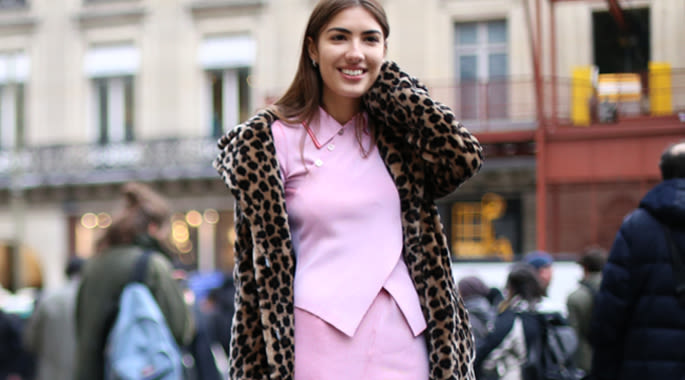 How to wear a faux fur coat
It's hard to ignore: faux fur coats are everywhere this season. But if you're steering clear of this cosy outerwear because you're wondering how to style them, then steer clear no more. Not only is a faux fur jacket one of the warmest winter coat styles you can buy, it's also an easy way to make your outfit – and we mean any outfit – look statement and on trend. To help you, we've pulled together some simple styling rules.
1. Faux fur all the way
The first golden rule: ALWAYS fake it. Only shop from retailers that follow no-fur policies. There have been instances where brands have claimed 'faux' when it's not (more often with fur trimmings rather than a full-on fur coat). Don't get caught out. Go in store and check the actual hair tips: synthetic faux fur will look blunt rather than pointed. And check the base of the fur too: you want a material backing, not a leathery one.
2. Slim it down
Faux fur coats are, by their very nature, pretty bulky items. Tone down the volume by keeping your outfit underneath more streamlined. Slim-fit trousers are a good shout. On your top half, forgo any layers (you'll be warm enough – trust us). A basic polo neck will let your coat do the talking. Jumper-wise, choose fine knits over chunky knits.
3. Keep it casual
Don't just think this is your going-out-out coat. You can easily give faux fur a casual spin. There's nothing cooler than a faux fur coat thrown on over your weekend wardrobe of skinny jeans-and-tee. If it's not completely freezing, show off a little bare ankle and throw on your trainers.
4. Shop your style
Still worried you'll look like the honey monster? Fear not – this year there are so many different faux fur styles to let you dip your toe in the trend. Look for shorter pile coats in a cropped or bomber jacket style. And explore faux shearling and faux sheepskin coats too. These are still statement-making but will give you a less voluminous silhouette. Now you know how to wear it, let's get shopping! These are the best faux fur coats to buy at Victoria Leeds.
The black faux fur coat
Go classic: wear with an all-black outfit. Our pick: Free People Lindsay black faux fur coat, £150, Harvey Nichols
The leopard print faux fur coat
Another way to embrace the leopard print trend this season. Our pick: Longline animal print faux fur coat, leopard print, £250, Karen Millen
The pink faux fur coat
In autumn's key colour: this one's for the bold and brave! Our pick: Sebille faux fur coat, £185, French Connection    
The faux fur biker jacket
The rock n roll biker gets a warm makeover Our pick: Faux fur biker, £195, Whistles
The faux shearling teddy coat
Less volume but just as stylish – it's a yes from us. Our pick: Faux shearling teddy coat, £129, & Other Stories