Where to eat if you are a flexitarian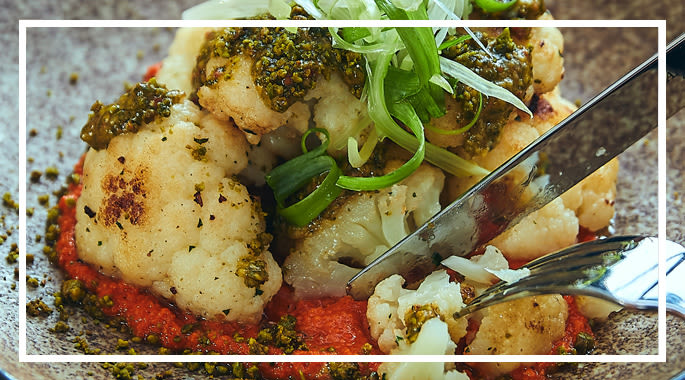 If you're planning to eat less meat this year, but you're not ready to become a full-time vegan, then maybe it's time to embrace the flexitarian diet. A flexitarian is someone who eats a largely plant-based diet, but also occasionally eats meat, fish and dairy. Just think of it like an extension of meat-free Mondays!
So, whether you're looking to eat less meat to help the environment (going plant-based can reduce carbon and other greenhouse gases, for example) or you simply just want to take on the 22-day vegan challenge… We've rounded up the best vegan (and veggie) dishes at all your favourite restaurants at Victoria Leeds to help.
The Ivy Leeds
At The Ivy Leeds, you'll be spoilt for choice for vegetarian and vegan dishes. Their vegan menu has some flavoursome dishes, from hearty mains to keep you full up for a day of shopping, to lighter starters like their Jackfruit and peanut bang bang salad. It's made with Chinese leaf, mooli, crispy wonton peanuts and sesame seeds. And don't miss their Keralan sweet potato curry, made with choy sum, broccoli and coconut.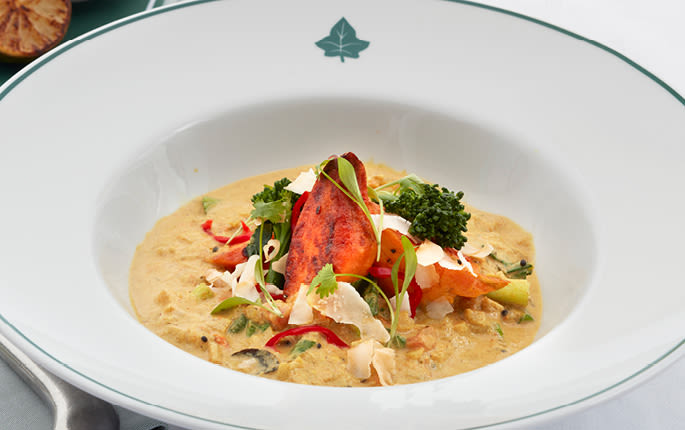 The Ivy's Keralan sweet potato curry
Victoria Gate Casino
At Victoria Gate Casino's V Restaurant, you can find many plant-based dishes heroed on their menu, from veggie burgers to veggie noodles. But, if you're looking for a vegan option, then the Leek and mushroom pie is the one for you! Not only is it vegan but it's also gluten-free, and is served with wonderful new potatoes for a real hearty post-shop dinner.
Harvey Nichols Brasserie
For something a little lighter, head to the Harvey Nichols Brasserie and tuck into the vegan Superfood salad while taking in the views from the city-rooftop vista. Served with baby spinach, grilled courgetti, broccoli and quinoa, this vegan dish is packed full of nourishment, as well as being delicious. They also have a wonderful Vegan chocolate cake for dessert, too.
East 59th
With an American-inspired menu that offers up some mouth-watering dishes to try, East 59th is a great spot to dine in Victoria Leeds with friends. As well as some veggie twists on classic American-style dishes, like the Veggie stack burger, they also have a couple of vegan options on the menu, like their Roasted cauliflower with a truffle pistachio crumb.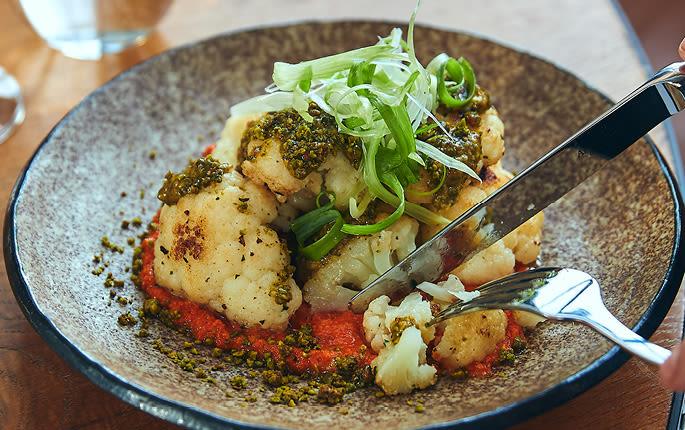 East 59th's Roasted cauliflower
Issho
At Issho, they also have a dedicated vegan menu so there's plenty of choice for your mid-shop pitstop. From pumpkin miso gyozas to their vegan avocado, lime mousse and chocolate ganache, you're bound to find something you'll love. Their Tomato salad with whipped tofu, sherry vinegar and sesame is one dish not to miss!
---
For the latest news, subscribe to our email alerts.