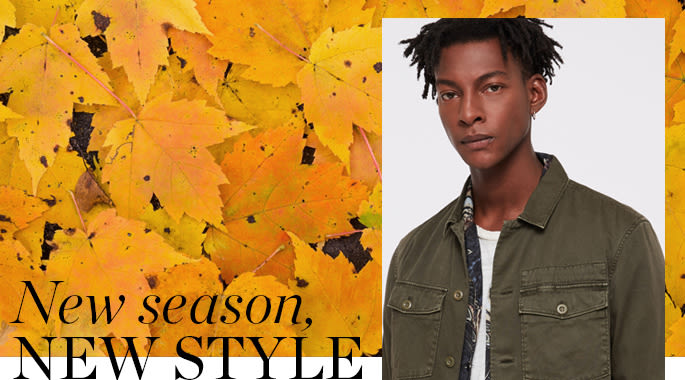 Wardrobe classics: what's new in All Saints
Time for a wardrobe refresh? Make All Saints at Victoria Leeds your first port of call.  This season, they're knocking it out of the park with new styles that will look sharp this autumn/winter, and beyond – making them the perfect wardrobe classics! These are the new-in pieces from All Saints you can't afford to miss.
The military khaki shirt
Cold, but not cold enough for a coat? Layer up with an overshirt – the perfect piece to see you through the in-between-season in style. This All Saints khaki version works just as well worn over a T-shirt and underneath a coat for when the chill really sets in. Wear it with: Keep in line with this All Saints shirt's military vibe by teaming it with a lightweight sweatshirt, chinos and boots. Or try it with an overcoat for a modern, layered look.
Our pick: Spotter shirt, £88, All Saints The navy trousers
Take your outfit to the next level this season with these sharply cut, cropped All Saints trousers. Cut just above the ankle, these trews let you put your footwear game front row.  Plus, as they're a great wardrobe classic, you can easily wear them sockless in summer for a rakish Riviera-inspired look. Wear it with: Sports socks, trainers and an oversized T-shirt for an athleisure feel, or sockless with suede loafers once the summer rolls round again.
Our pick: Kato trouser in Ink Navy, £98, All Saints
The suede Chelsea boots
Nothing says smooth like suede. These buttery soft All Saints Chelsea boots are a sleek footwear option for everything from a date to a semi-formal dinner, pairing just as effortlessly with tailoring as with smart-casual separates. (Just make sure you check a weather app before you put them to work.) Wear it with: A charcoal grey suit for a less traditional evening look, or trousers and a heavy gauge roll-neck for 007-inspired cool.
Our pick: Reiner boot in Taupe, £158, All Saints