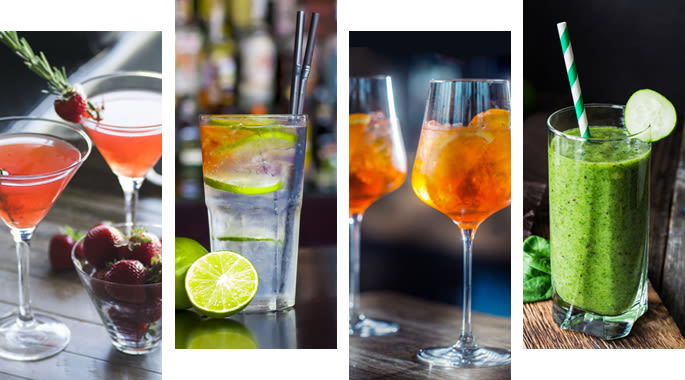 The best non-alcoholic cocktails in Leeds
More and more of us are opting for non-alcoholic drinks on a night out. And our new 'drink-less' attitude is leading to a change in, not only our diet, but our lifestyle habits, too. We're ditching cocktails and clubs for non-alcoholic cocktails, super smoothies and yoga classes.
Best mocktails in Leeds
With our thirst for zero-alcohol cocktails, the drinks scene has had to adapt too. Most bars and restaurants now have a dedicated mocktail section on the menu, with resident mixologists putting just as much thought into these drinks as their classic alcoholic offerings. So we've explored Victoria Leeds to find the best tasty tipples available. For a virgin take on a cocktail, check out the Matcha Mocktail at Harvey Nichols The Bottle Room. Cloudy apple juice and elderflower cordial is mixed with Matcha green tea powder, lime juice and cucumber. Alternatively, head over to East 59th. Their Bitter Almond mocktail on the Dry States menu has to be tried. Fresh mint leaves are muddle with orgeat syrup and then topped with fresh grapefruit juice.
Seedlip 'gin' and tonic
The boom in the plant-based, non-alcoholic spirit seedlip has really ramped up the flavour of virgin G&T. It helps add depth of flavour, along with spicy or dry notes, that you'd usually only get from a big slug of your favourite gin. Also at Harvey Nichols The Bottle Room, try the Seedlip Garden 108. It has floral and herbal notes that taste great with Fever-Tree Tonic Water and fresh cucumber.
Agua frescas
As we're stepping away from the beers, there's also a growing trend for aguas frescas. These light, non-alcoholic drinks – which are made from fruits, cereals, flowers or seeds – are often diluted with sugar and water. A popular choice in Mexico, they use ingredients such as pineapple peel and rind, hibiscus flowers and tamarind to make their light, refreshing drinks. For a similar soft drink, take a trip to Issho and sup on their Lemongrass Fizz. Enjoy ginger and lemongrass cordial mixed with lemon juice, apple juice and topped with soda.
Superfood smoothies
Smoothies are being pimped up, too, with the addition of superfoods like cocoa nibs (for a rich, chocolatey crunch), or acai berries (for a thick, indulgent texture). In addition to these exotic ingredients, there's been a big shift to savoury smoothies made from veggies like kale, spinach, avocado and carrots. They're a lower sugar option to your usual fruit smoothie.     Try the Superfood Smoothie at Harvey Nichols Espresso Bar. Blueberry, apple, kale and ginger are blitzed and blended for a truly refreshing pick-me-up.
Craft sodas
Forget Coca-Cola or 7-Up. Today everyone is after something bespoke and quirky – enter craft sodas. Often handmade in small batches, these drinks are tapping into our healthy desires and ethical consciences. Think organic, natural ingredients and truly original flavours: blackberries and stinging nettles soda, anyone? Ditch the usual fizzy suspects and try the home-made craft sodas at East 59th. Their menu changes weekly, so head there now and see what sippable sodas they've got on offer. So there you have it – now it's time to go out and get drinking (minus the hangover).