 The best alternative wedding dresses under £575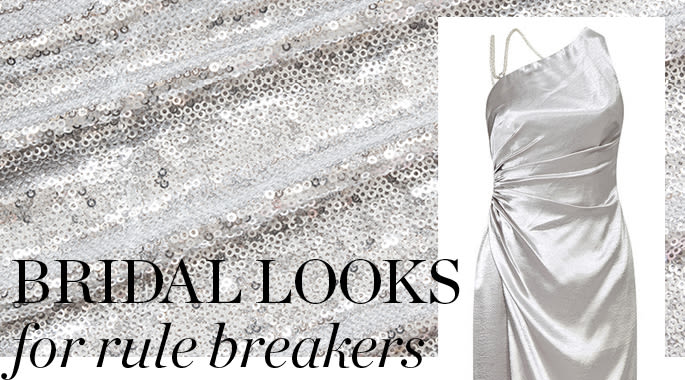 Planning your big day? Thought about your dress yet? If a huge meringue wedding dress just isn't your thing, then take your pick from our alternative wedding dresses and outfits. From slinky silver wedding dresses and midi dresses to bridal suits, these beautiful high street wedding outfits are non-traditional but super stylish. And the best bit? They're all under £575 Boutique bridal on a budget? We do! Plus, you can pick them up at Victoria Leeds now.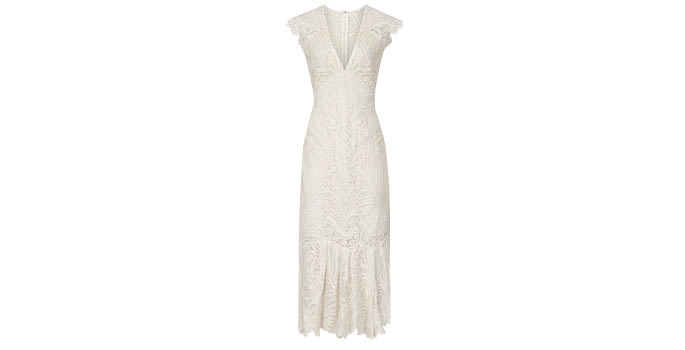 TEA LENGTH WEDDING DRESSES
Midi length dresses have taken over our everyday wardrobe, and now they're taking over the bridal closet too! Whether it falls just below the knee or hits the calf, this length wedding dress is a refreshing departure from floor-sweeping gowns. It's a great choice if you're opting for a more low-key wedding. For a taste of couture craftmanship without the eye-watering price tag, you can't go wrong with this breathtaking Reiss ivory dress. Its handcrafted lace overlay detailing will photograph beautifully and get your guests oohing, while the deep V neck and fluted fishtail hem gets our hearts racing. Swoon.  Ivory and gold are a match made in heaven, so pair this dress with gold statement earrings and gold sandals. A mid to high heel would be ideal for this length dress.  Our pick: Anastasia lace overlay flute hem midi dress, £295, Reiss
SILVER WEDDING DRESS
When you're searching for your dream alternative wedding dress, a top tip is to explore eveningwear not just bridal collections. Dramatic maxi gowns in shimmering metallic shades will add extra sparkle and glamour to your big day. Silver is always a flattering option that'll look great in your wedding photos.   This Aidan Mattox one shoulder column dress is a show-stopper that'll wow your guests. In silver satin, its asymmetric pleating on the bodice gives you definition at the waist while its deep side split will make for some excellent twirling on the dancefloor.  Instead of classic satin courts, pair this dress with strappy metallic sandals. After all, a shimmer frock deserves ballroom-worthy heels!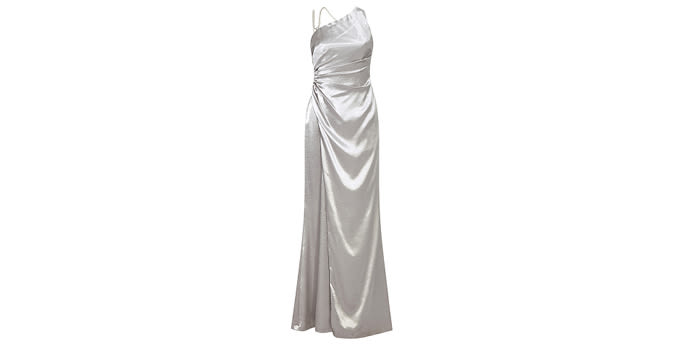 Our pick: Aidan Mattox one shoulder long dress, £320, Harvey Nichols 
WEDDING SUITS FOR WOMEN
If dresses aren't your thing, and you want a wedding outfit that you'll actually wear again, then enter the achingly chic wedding suit. If Bianca Jagger can don a tux, so you can you. Choose light hues such as white, ivory or champagne. The Filippa K tailored white jacket and matching straight leg trousers make the perfect wedding suit investment. We adore its clean lined yet dramatic silhouette – and as it's made from crepe, it'll hang beautifully too. Make sure you check the jacket's fit is perfect (the handy waist tie will mean you can cinch it in nice and firmly). All you need underneath is a silky camisole and delicate necklace. A traditional veil may be out of the question, but how about adding a Bianca-inspired veiled wide-brimmed hat instead? Platform sandals or high pointed courts work well with this trouser style.  Our pick: Filippa K white tied jacket, £395, Harvey Nichols; Filippa K white straight-leg trousers, £180, Harvey Nichols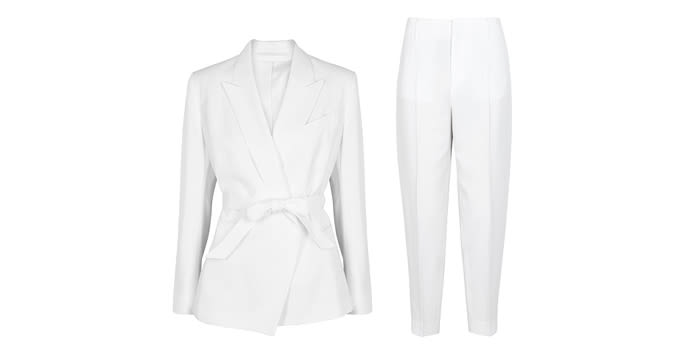 LUNCH AT THE IVY, VICTORIA QUARTER
So you've grabbed the girls, you've found your dream dress (or wedding suit). What now? Time for refreshments! Head to The Ivy Brasserie in Victoria Quarter. Its glamorous setting, tempting menu and amazing drinks and cocktails list mean you can carry on your wedding planning in style. Champagne, anyone?  To book, call 0113 388 6222 or visit the website.