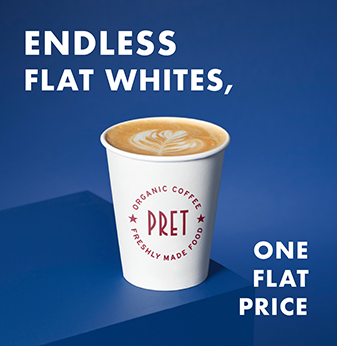 Pret Subscription Service Launches
In a UK high street first, Pret A Manger is offering all customers a month of their favourite coffees for free as it launches its new in-shop coffee subscription service on Tuesday 8th September.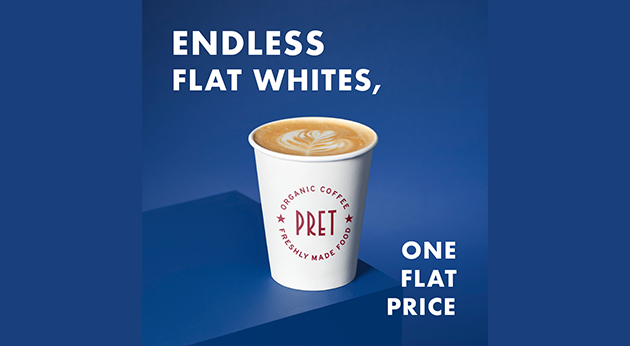 Ready to transform the way the UK buys its coffee, YourPret Barista lets subscribers enjoy Pret's full range of barista-prepared drinks, up to five times a day. To celebrate this huge moment for coffee lovers, the first month is entirely free for all subscribers. The subscription covers all drinks prepared by Pret's expert baristas, including its 100% organic and 100% Arabica coffees. All Pret's organic teas, hot chocolates, delicious smoothies and refreshing frappes are also included. As always, organic milk alternatives are also available free of charge. Subscribers will scan their personalised QR code and enjoy their favourite drinks for free at Pret shops across the UK.
While more and more people are heading into its shops, Pret has also launched a host of new products specifically designed for customers to enjoy from wherever they are. Examples include Pret's 'Heat Me at Home' meals, its first ever range of ground coffee and espresso beans, available via Amazon, and a new dinner menu available for delivery.
YourPret Barista subscription – how it works: • Customers can subscribe at your.pret.co.uk or can be guided through QR codes available in every Pret store nationwide. • The subscription is loaded onto customers' Apple or Google digital wallets or can be accessed via emailed QR codes. Scanners installed in Pret shops enable customers to verify their subscription status and redeem hot drinks. • YourPret Barista coffee subscription is valid for one month, and auto-renews with no minimum term contract. Customers can unsubscribe at any time. • Only redeemable in-shop for takeaway or eat-in. Redemption is limited to one drink per transaction, up to five per day, with 30 minutes intervals between each transaction to prevent misuse.
*For a full list of participating shops see pret.co.uk/YourPretTerms