How to wear a trench coat in spring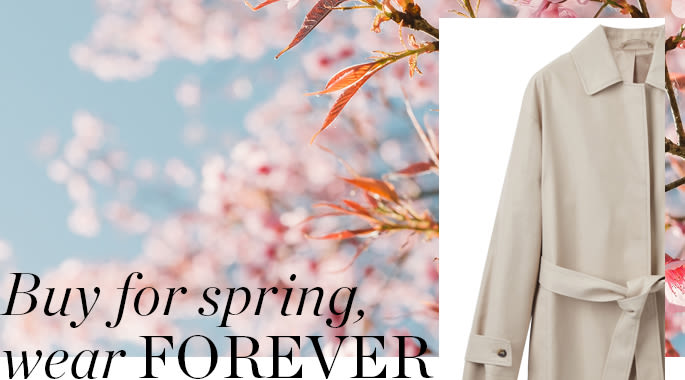 Want to invest in a trench coat? Same here. We've tracked down the best women's trench coat at Victoria Leeds. To help you out with your new spring fashion look, we've compiled some simple yet slick styling tips on how to wear a trench coat throughout the week and on weekends.  Durable, rainproof and extremely versatile, the mac is the perfect cape to keep on your coat hanger from spring to autumn. We've opted for a beige trench. It's a classic shade that will never date, meaning you can use it to perfect your outfits for years to come.  If you're worried about trench coats only coming in handy for the winter, fear not! As weather warms up, look for lightweight cotton rather than heavy wool. With some clever outfit ideas, it'll still work on chillier days too. Ready to take beige beyond the basics? This is Cos' take on the classic trench. Read on for how to style it!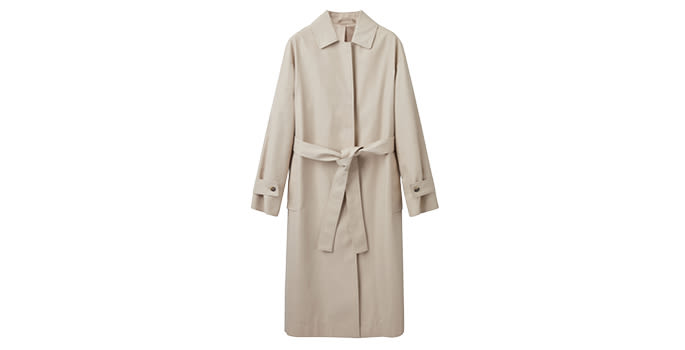 Our pick: Organic cotton trench coat, £135, Cos
HOW TO WEAR A TRENCH COAT: IN THE WEEK 
There's nothing quite like wearing a swanky beige trench coat when the sunnier days are out. During the week, and to really up your work outfit game, pick some khaki or navy tailored chinos and a round-neck fine jumper in grey to really contrast with the trench coat. Putting the spotlight on the mac is key here, but remember to never wear more than three colours at once — rule 101 of workwear. You're welcome.  Maintaining some level of comfort in your work outfit is essential. And because you're on your feet most of the day, favour some flat shoes with a thick comfy sole. A pair of leather loafers with bare ankles are ideal for the spring season.  Don't forget to add a chunky necklace – they're in vogue right now. Gear up with a nifty bucket bag to carry around all your essentials. Even better, you'll find the coat's many deep pockets very handy on your daily commute to work. No more losing your phone or bank card at the bottom of your bag…
HOW TO WEAR A TRENCH COAT: ON THE WEEKEND 
Thank god it's Friday. Looking for a lush and relaxed look for your weekend's plans? Your classic trench can be thrown over most things you already own for dressed-down days. From slogan tees and spring dresses to high-waisted jeans, your trench will look fab with anything casual layered underneath as it'll instantly add a hit of street style chic. For a nod to spring, why not try a pair of light washed denim topped with a black leather belt.  To fully embrace that casual weekender look, match up your mac with a pair of ankle boots. Ditch your black leather boots for now and opt for white or burgundy ones instead. They'll really add contrast to your denim jeans. Or how about chunky white trainers, which are everywhere at the moment! They'll give you all the comfort you need for your next Saturday shopping splurge. And when the rays are out, shake things up by rolling your mac's sleeves up and top with a pair of tinted shades to be the coolest in town.
THE BURBERRY TRENCH COAT AT VICTORIA LEEDS
A lover of luxe with more money to splash? For sophisticated tailoring and heritage craftsmanship, go bold with the iconic mac from Burberry. It'll last you for years!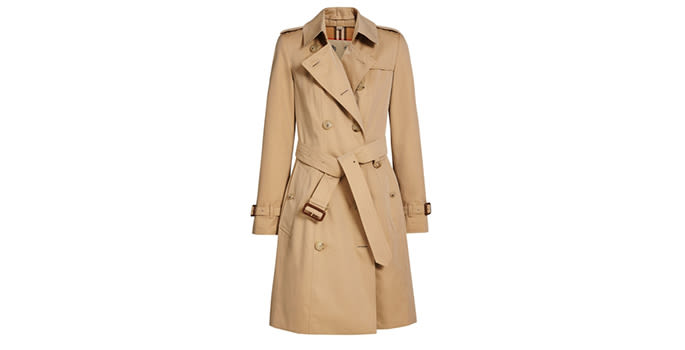 Our pick: Burberry Chelsea Heritage trench coat, £1,450, Harvey Nichols (order, collect and try in store)
HOW TO FIND THE PERFECT FITTING TRENCH 
Still unsure about which cut will fit you best? Come by Victoria Leeds and have a feel of the fabric before trying on a few trench options. If you're smaller in stature, then look for shorter trenches that finish just above the knee as these won't dominate your petite frame. Look out for petite ranges in store, too, as they'll be cut to suit your proportions.  Belted wrists and waist are also a must, giving you plenty more styling options, so keep that in mind when you try your new favourite outerwear in store! Now that you're a true trench coat expert, soften up your spring with these beigey hues and become the fashion trooper you've always wanted to be.