 Our favourite tea flavours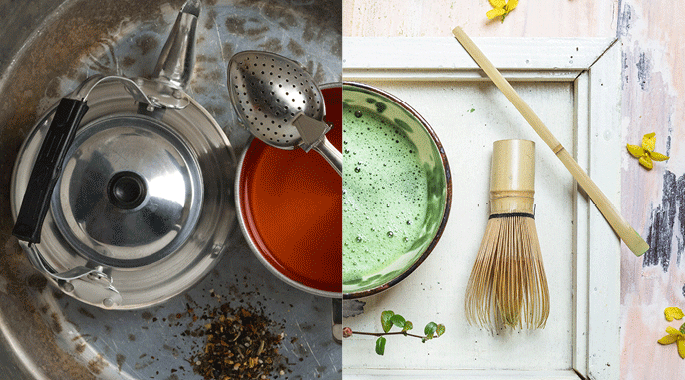 Our love affair with the great British cuppa has never waned. In fact, we're falling increasingly head over heels with the humble tea leaf. ​As our desire for café culture grows, we're exploring ever more exciting and adventurous flavours from across the globe that not only taste fantastic, but are also praised for their health benefits too. Bonus. Of course, traditional English Breakfast tea will always have a place in our hearts – but let's embrace the exotic! ​This is our roundup of all the new leaves on the block, as well as the lowdown on the kit you need for the perfect cuppa. Time to put on a brew and get sipping…
Matcha tea
This stone-ground powdered green tea from Japan is revered for its high levels of antioxidants and tastes delicious too. It'll give you a mellow caffeine buzz (no java jitters here) and it's really easy to make – simply mix the powder with hot water. ​Not only is it a visual treat, thanks to its ultra-vibrant green hue, you can also be smug in the knowledge that it's one of the trendiest teas around.
Turmeric tea
Enter the earthy flavour of turmeric. This popular spice has been used as a remedy in Chinese medicine for centuries (not to mention an essential ingredient in your Friday night curry). But it also makes for a bold, yet soothing, caffeine-free tea. ​For a drink that packs a tasty punch, look for a turmeric and ginger tea mix. And to ramp up the earthy-sweet taste, add a drop of honey.
Oolong tea
Chinese Oolong tea is made from the same leaves as green tea but they're left to oxidise for longer, meaning they have a darker colour. ​The longer the leaves are left for, the more the flavour develops – so you can get a fragrant-sweet lighter oolong, or one that's darker in colour with a deeper, nutty hit. Oolong tea is known for its relaxing properties – great if you're feeling stressed out.
Rooibos tea
Rooibos is a herb native to South Africa that is dried and brewed into a red-brown infusion also known as 'red bush tea'. With zero caffeine, it's a great alternative cuppa to one made from green tea leaves. ​Its complex flavour is hard to describe, but delicious: think smoky, caramel and vanilla with a woody vibe. Steep us up.
Hibiscus tea
The beautiful Hibiscus plant is grown in warm tropical climates, and it also makes for a fruity, refreshing herbal tea. ​Its sweet and tart flavour – plus wonderfully ruby-red colour – is reminiscent of cranberry drinks, so this is a great option if you fancy a chilled tea. Just the thing for a warm, sunny day.
Ginger tea
For centuries ginger has been linked to a wealth of health benefits, from boosting the immune system to supposedly aiding weight loss. ​Fiery ginger root has a rich and unique flavour and it's super easy to brew into a delicious hot drink, (or even easier, buy a ready-made bag of the stuff!)
Chai tea
This traditional Indian tea is very much on-trend right now. A punchy blend of black tea, herbs and spices, it's commonly served with a dollop of milk, plus a dash of sugar or honey. ​Chai tea is also said to aid your well-being and soothe your mind – we're feeling zen already.
Time for tea
If you're heading into Victoria Leeds, then we really recommend the Sencha green tea from Issho. ​For a luxury afternoon tea for two, head to Harvey Nichols, The Fourth Floor Café, where you can enjoy a cuppa with some traditional scones. ​Alternatively, if you fancy putting your feet up at home, then check out our pick of the best tea-making kits available at Victoria.

Our picks: 1. Dualit Classic kettle in polished stainless steel, £145, John Lewis 2. Little Bag of Gold, £20, T2 3. Matcha Matcha Matcha, £70, T2 4. Umi Bamboo White on Gold cast iron teapot, £100, T2 5. Moroccan Tealeidoscope Perfect Day Rose tall cup and saucer, £25, T2 6. Bodum travel mug 350ml in copper, £20, John Lewis