Hearty soups and stews to slurp up this winter
From traditional noodle soups to hearty vegetable stews, these comfort food classics from around the world are just what you need to help defrost on a chilly day. Grab the family after a day of shopping at Victoria Leeds and tuck into a delicious bowl of nourishment that'll warm you up for the journey home.
Chicken soup
There's nothing more comforting than a big bowl of chicken soup, right? Whether it's your go-to dish for family gatherings on winter nights, or your essential pick-me-up when you're feeling under the weather, this bowl of nostalgia is the perfect feel-good meal.
Soups change daily at Pret, but keep an eye out for their sensational Chicken and butternut risotto soup. This freshly prepared bowl of goodness is made with blended roast butternut squash, chicken and brown rice. It's like a hearty hug in a bowl! Find Pret in Victoria Gate.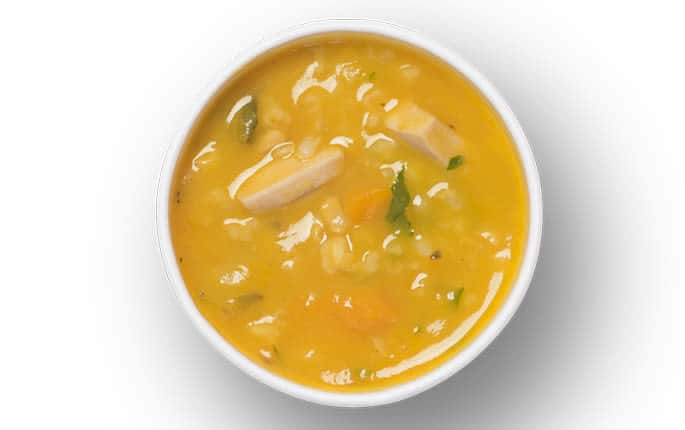 Pret's chicken and butternut risotto soup
Miso soup
This nourishing Japanese soup is made by mixing a stock called dash with miso paste. It's then topped with a medley of ingredients, depending on the region of Japan it's being made. So you can expect anything, from mushrooms and potatoes to seaweed and seafood.
At Issho (located on the rooftop level 3 in Victoria Gate) you can pick up a side dish of their Aka miso soup to go with one of their hearty mains, like the irresistibly comforting Spicy pork bao buns that are soft enough to sleep on.
Vegetable soup
Is there anything better than a big bowl of vegetable soup on a freezing day? Not only does it warm you up (inside and out), it's also full of goodness and is great for packing in some of your essential five-a-day. Plus (like you need any more reasons), it's also very versatile so even the pickiest of eaters can find their favourite flavours – from pea and watercress to a classic tomato and basil.
For a comforting dish, head to Le Pain Quotidien and try one of their organic soups or Harvey Nichols Espresso Bar for one of their soup of the days. Both restaurants change the flavours throughout the week, so you can mix it up and keep going back for more!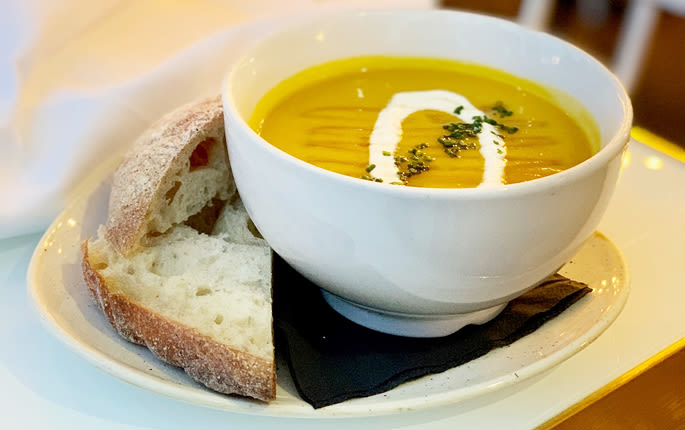 Harvey Nichols Espresso Bar's vegetable soup
French onion soup
Ah, the classic French onion soup: it's one of the most iconic soups in the world – and for good reason. Not only is it hearty and flavoursome (it's slow-cooked for hours to perfection), it's also made with caramelised onions and comes topped with bubbling, gooey cheese and croutons.
At The Ivy, based in the beautiful Victoria Quarter arcade, try their starter of White onion soup – it's served with truffle mascarpone and a sweet toasted brioche. We know, we're salivating too…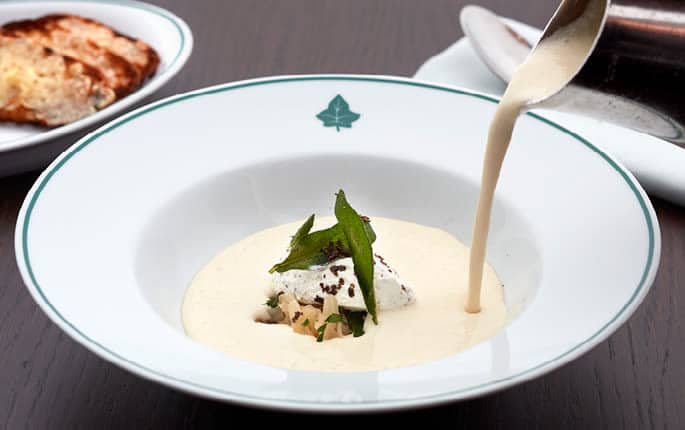 The Ivy's white onion soup