Find your fashion mojo
5-minute read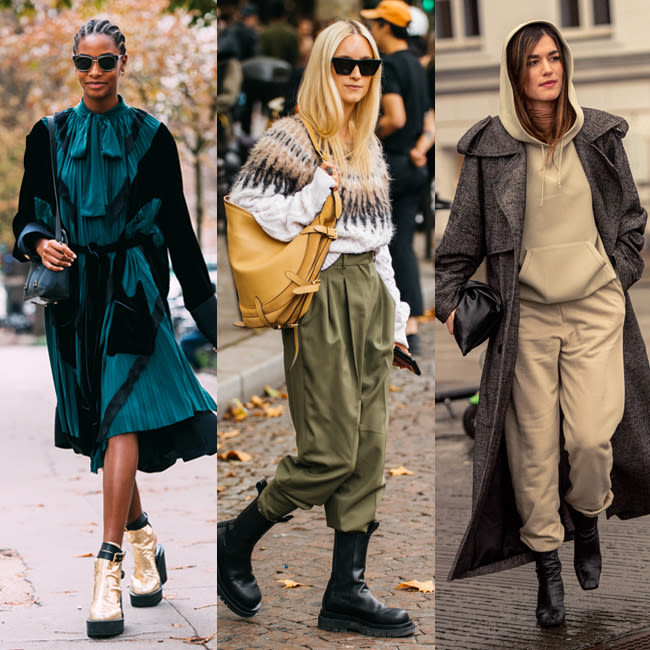 With working from home fashion (read comfy joggers and zero waistbands) dominating the year, your fashion mojo may be struggling. And with autumn fashion filling the shops, we asked @wearitlikeruth aka Ruth Preston to pull together some ideas to help you love your wardrobe again.
In Ruth's words…
Ah, autumn: crisp, sunny days, golden leaves – and, of course, the real reason why I've always loved autumn: my birthday! You know what that means, right? My birthday wish-list, which is made up of all the new season fashion I'm lusting after. This year, however, I've struggled to compile it. I spoke to Sian @sianlord_ and, much like the rest of us, she admits her lockdown style consisted of joggers and co-ord sets as she wanted to be cosy and comfortable. So, if like me, you now find yourself staring blankly at your wardrobe and wondering where to go from here, that's ok. More than ever before, we want to wear clothes that lift our mood. What can we embrace in these relaxed dressing times that'll truly give us our fashion mojo back?
'During lockdown, I loved being cosy and comfortable but I'm very happy to start putting outfits together again' @sianlord_
Wardrobe clear out tips
Now's a great time to make your existing wardrobe work harder for you while being at home more. Set some time to go through your wardrobe by sections: knitwear, then trousers, jeans etc. By editing it in this way, it feels less overwhelming but you will also start to see any real gaps in terms of what you need to buy. Next, consider your new weekly activities and daily routines – where you will be wearing your clothes? Try everything on – yes, everything. Do you feel instantly great in it? Can you sit comfortably in it? Focus on pieces that make you feel amazing and create looks with these items. Think about how many other items you own that you could style with it. And remember: be ruthless!
Shopping savvy
Let's face it, we're all feeling the pinch right now, so when we do spend our hard-earned cash it makes sense to spend well and include some classic staples that have longevity. I know what you're thinking: this all sounds very practical and dull. Well, practicality can be cool! It's no surprise that we're seeing more Scandi-inspired fashion – think clean lines, oversized silhouettes, neutral colour palettes and comfortable fabrics. Trousers can be found in heavier, durable linens, premium cottons and tops in luxurious silks and quality wool.
In Victoria Leeds, head to Jigsaw and Gant for classic styles in quality fabrics. And revisit the ways in which you can adapt certain items – so traditional workwear pieces that you still love, such as an oversized wool blazer, could be thrown over a hoodie and pleather leggings. Have fun playing with fabrics and contrasting styles. A personal winner for me is to de-feminise a pretty floral dress with a heavier blazer and chunky boots.
Discover quality pieces you'll keep forever, thanks to Jigsaw's new autumn collection
Relaxed fashion
One of my favourite sayings, now more than ever, is Comfort is King. But being too comfy can make you feel unproductive, so don't let activewear become your staple. Equally neither do we want to be wearing restrictive skinny jeans all day, or ironing impractical shirts. I now find myself gravitating towards cosier, layered loungewear, which still feels luxurious and pulled together but less formal. Look for updated fabric choices such as cashmere and seek out knitted co-ord sets and tonal hoodies with matching track pants. Simply team with red lips, some chunky jewellery and a trench coat. You'll instantly feel like you've transformed an indoor casual style into something lunch date-ready! In Victoria Leeds, The White Company has a selection of sweatshirts and relaxed joggers in fabrics like cashmere and cotton-silk. Or make your way to American Vintage at Harvey Nichols for the ultimate in luxe loungewear.
' The new autumn season is the perfect excuse to finally get dressed up! Layering is key.'
Sophie @fashionnbellee
Autumn Winter 2020 trends
I agree with Sophie aka @fashionbellee, who says autumn is the perfect excuse to finally get dressed up post lockdown, and style some new outfits. This year we're seeing the usual, gorgeous autumn earthy tones in the form of big checks, preppy looks and paisley prints. But these four trends are all making it on my birthday wish-list.
1. Quilted jackets I mean, who doesn't want to feel like you're wearing your duvet outdoors? Ticking both the practical and style boxes, it's a winner! Look for thicker padding for this year's update on the puffa coat.
In Victoria Leeds, Joules has a selection of puffa coats that'll keep you snug for autumn and beyond. Or if you fancy treating yourself to an iconic quilted jacket, check out Burberry at Harvey Nichols or Barbour at John Lewis & Partners. 2. Everyday dresses Do not save a dress for an occasion – at this rate, you'd never wear it again… The right dress is a comfy yet effective one-piece you can simply throw on. Choose a soft line fabric such as jersey. In colder months, layer up with a turtleneck underneath and a knitted cardi.
For stylish, throw-on-and-go dresses at Victoria Leeds, you can't beat the new-season drops at & Other Stories and Anthropologie.
Check out Anthropologie's great selection of dresses – perfect with chunky, weather-proof boots
3. Loose tailoring From an unstructured blazer to a more wide-leg trouser, this trend makes for a great investment. Wear together with trainers or as separate pieces to get more bang for your buck.
Make your way to Cos and Reiss for palazzo-style trousers and oversized blazers that'll look smart yet feel comfy. 4. Layered knitwear From knitted co-ords with matching cardigans to dresses, this is a step up from loungewear! Brightly coloured knitwear with details such as zips and collars add interest. Embrace your inner nerd with a knitted tank top (or cropped sweater) paired over a white shirt. You'll find cable knits and colourful knitwear at Polo Ralph Lauren, while & Other Stories has a great selection of ultra-wearable cardigans and cropped sweaters.
---
For the latest news, subscribe to our email alerts.